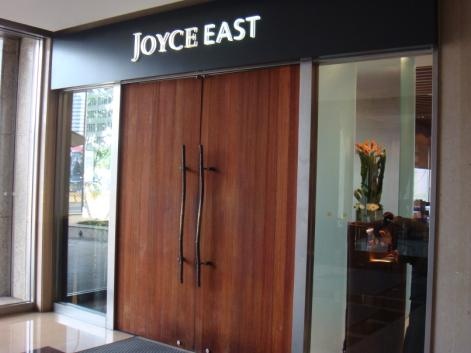 Profile
Price Range:   $$$$
Accepts Credit Cards: yes
Attire: semicasual
Good for kids: yes
Take out:
yes
Waiter Service:
yes
Outdoor seating:
  no
Alcohol:
yes
Rating
Food Quality:
 3.5 out of 5
Decor:  
4 out of 5
Service: 
4 out of 5
Overall: 
3.83 out of 5
Recommendation:
 High-Value Afternoon Tea
Review
In the bustling Hsin Yi district, there are many options for afternoon tea. There is
Smith and Hsu
,
A3 at Bella Vita
, and
Elite Concept at the Taipei 101
just to name a few. Among the many places to enjoy a relaxing cup of tea accompanied with exquisite snacks and desserts, Joyce East stands out as a prime gateway restaurant to hook you into a life of afternoon tea-ing.
Joyce East offers a deluxe afternoon tea experience at the very competitive price of 880 NT for two persons.
The 3-tiered set comes with 2 tiers of snacks, and 1 tier of small desserts. The items will vary, but expect to see some sort of sandwich, a few pastries, and an assortment of cakes and puffs. The quality of the items is pretty high, and the prices are a lot cheaper than Smith and Hsu, A3, or Elite Concept, making this an afternoon tea experience with a relatively high value.