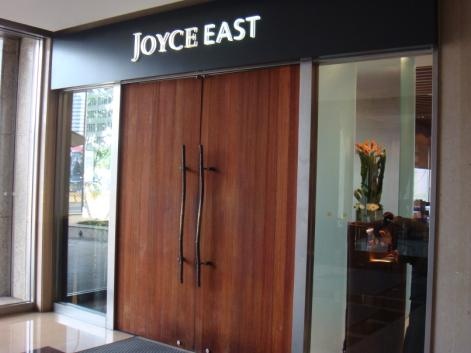 Profile
Price Range: $$$$
Accepts Credit Cards: yes
Attire: semicasual
Good for kids: yes
Take out:
yes
Waiter Service:
yes
Outdoor seating:
no
Alcohol:
yes
Rating
Food Quality:
3.5 out of 5
Decor:
4 out of 5
Service:
4 out of 5
Overall:
3.83 out of 5
Recommendation:
High-Value Afternoon Tea
Review
In the bustling Hsin Yi district, there are many options for afternoon tea. There is
Smith and Hsu
,
A3 at Bella Vita
, and
Elite Concept at the Taipei 101
just to name a few. Among the many places to enjoy a relaxing cup of tea accompanied with exquisite snacks and desserts, Joyce East stands out as a prime gateway restaurant to hook you into a life of afternoon tea-ing.
Joyce East offers a deluxe afternoon tea experience at the very competitive price of 880 NT for two persons.
The 3-tiered set comes with 2 tiers of snacks, and 1 tier of small desserts. The items will vary, but expect to see some sort of sandwich, a few pastries, and an assortment of cakes and puffs. The quality of the items is pretty high, and the prices are a lot cheaper than Smith and Hsu, A3, or Elite Concept, making this an afternoon tea experience with a relatively high value.
The interior is classy, but not so in the opulent way. The big wooden doors of Joyce East make an apt entryway into the restaurant, and there is a divider in the front to seclude the waiting area with the rest of the dining space, which I always appreciate in dining space design. They have tables set up in a very standard sort of way, using square tables and white table cloth. Their chairs are comfortable bendable faux leather chairs, and helps you ease into the slow-paced afternoon tea. The service staff are very professional, and will come and drop by cleaning up tables, or answer requests from the patrons. They are dressed with the classic butler look, and serve with humility. I have no problems with their area and attitude, but it clearly deserves high marks for their above average service and dining space.
First, you start off with the drinks you ordered. The better choice with the 3 tier, and the whole experience is definitely tea. It is lighter and won't conflict with the snacks and desserts as much as coffee. Also, you get a cute teapot with a heating holder. And pearly white sleek ceramics never fail to make food and drink look and taste better. The utenstils and tableware offered us was not too shabby.
For the afternoon tea, I recommend getting the three tier set for two persons. Although there are great alternative desserts and snacks around the 250 NT range per item, I believe having a tower of snacks and deserts is essential for the afternoon tea experience. The presence of the rack stacked with delectables is part of the aesthetics of this ritual, and to do without it would certainly lower the joy involved. It was difficult to capture the glory of this wonder, and so should do youself a favor and go see it for yourselves. The following is a tier by tier analysis of what we had. Items vary from day to day, but the formula is the same.
The top tier consists of 3 types of sandwiches and fried shrimp.
There were two cheese sliders, a mini club sandwhich, a tuna croissandwich topped with ikura, and these golden-brown butterflied shrimp. The shrimp was crispy, fresh, and flavored with a light salt and pepper mixture.
I was quite disappointed with the lack of a lime slice, tar-tar sauce, cocktail sauce, or any sauce to top this perfectly fried shrimp. I thought the item was a bit dry and could have used at least a dab of lime to slicken it up. The shrimp itself was chewy and moist, but the breading totally counteracts whatever moisture the shrimp could have provided. If they had an interesting sauce for accompaniment, this would have been perfect. The burgers were quite dismissable too. They had a good bun and you cant really complain about the tomato and lettuce, but the burger itself was not so good. It was shaped too round and too small compared to the bun. As you can see, the little guy is hiding under the big top bun like a shy toddler. They really need to size it up so the meat sticks out with the cheese oozing down it, which is a lot more enticing than whatever that is. Alright, maybe they are trying to make a modest version of the burger to make it look like a sophisticated lady. Even if that's the case, you should season the meat people. The burger meat tasted just as plain as the burger meat at hello kitty sweets, which makes me wonder if its a island-wide epidemic. There is no harm in putting a little salt, pepper, worchester sauce, or even soy sauce into the ground beef before you pack it into burgers.
This item made of for the sliders, and I wish they offered more than 1 set. This mini tuna croissandwich topped with ikura was an absolute delight. The croissant was buttery and flaky enough to have that rich taste to it. I am not sure why the Taiwanese don't like to curve their croissants though. Even the croissandwiches at Starbucks sport these football shapes instead of the familiar crescent moon shape. They made a good choice by stuffing it with tuna and paring it with ikura. The mayo helps balance out the dryness the croissant contributes, and the tuna flavor mixes well with salmon roe, making a balanced sandwich in taste and texture.
The second item I loved in this tier was this club petite club sandwich. There is a layer of ham, egg, and tomato held together by mini toast. The bread was toasted to a perfect golden brown, and so it had the necessary crunch to it. The bread to filling ratio was suitable. Again, this item had a perfect balance with its dryness, and the 4 ingredients coalesce into a savory sandwich that is neither too meaty, too bready, nor way to soggy. From the intial crunch to the final grinding of the amalgam is a pleasant experience.
The second tier consists of pastry items. There are raisin scones, mini-muffins, minced meat pie, and flaky tartlets stuffed with a creamy filling. The raisin scones were alright. They were passable with some butter or jam, but they were not as good as the ones from Smith and Hsu. The mini muffins, were alright. They made these blueberry muffins in a very wierd way. Instead of having whole blueberries littered all over, they infused the blueberry flavor in the middle of the muffin. That was kind of interesting. The tartlets were reminiscent of the croissandwich. A flaky pastry and a creamy filling, but this time it was potato salad in a pastry cup.
The cute little
meat pie
was hiding behind all the more prominent items on that tier, so you can get a close up to this wonderful little pastry. It was crunchy of the outside with this slightly currish minced meat filling. Its like a elegant/dainty version of those chinese curry minced meat pastries.
Finally, the bottom tier consists of all the sweet mini desserts that vary daily. Today, it consisted of the lava bundt cake, mochi with strawberry mousse filling, strawberry creme puff, chocolate-dipped madeleine, tiramisu, and a blueberry cheese cake. Most of the items taste what they sound like and these items were not stunning. They are very ordinairy, very miniature, and delicious. The only item that kind of interested me was the mochi with strawberry mousse filling. The shape of the mochi was more of a wrap around the mousse, so the item had a more interesting exterior than a mysterious lump of cloudiness. The madeleine, mini lava bundt cake, and puff really just tastes as you would imagine it. I am not much of a puff fan, so it could have been amazing, but puffiness does not really vibe with me.
I am more of a sucker for these rectangular mini cakes. This chocolate one with the gold leaf could have been a Tiramisu, but its a rich chocolate flavor dominates the whole thing. There was no hint of coffee flavors when I consumed this, but it was probably just overpowered by the cocolate. It may have been too subtle for me to detect, or maybe the latte I was imbibing made me ignore any notes of coffee.
My favorite mini cake has to be the blueberry cheesecake. Per typical Taiwanese fabrication, this blueberry cheese was not too rich. It was just mildly cheesy and more creamy and blueberry. This item was good enough to carry the responsibility of upholding the Joyce East name. Sadly, the dessert items change daily and seasonally, so it is not like you will be guarenteed a chance to consume this mini cheesecake. I guess part of the fun of coming to Joyce East and ordering the tier is this surprise factor. For those who have not stepped into the Afternoon Tea world, I strongly recommend that you start with Joyce East as the middle ground restaurant to gauge your future exploits.